Download this beautifully designed Bible for all woman. Carry this audio Bible everywhere and read or listen to the God's Word even without internet connection.
The Bible made for you, woman.
You can read it whenever you want and wherever you want. You will spend beautiful moments reading your divine message, at home, in the street or at work. If you are married or single, young mother or grandmother, you will love to share the teachings with your children, grandchildren or loved ones.
Download Women's Bible on your mobile device freely. You will really love it!
Features:
1) FREE BIBLE
Download and use it for free.
2) AUDIO BIBLE
Listen to the Bible with high-quality audio. You can hear a particular verse or the whole chapter as well as adjust the volume, speed, and tone.
3) BIBLICAL TRANSLATION
We offer the World English Bible (WEB), a modern translation of the Bible based on the renowned American Standard Version (ASV-1901), the Hebraica Stutgartenesa Old Testament, and the Greek Majority Text New Testament. The WEB was created by volunteers and published in 2000.
Enjoy this useful, accurate and accessible English Bible for all.
4) OFFLINE BIBLE
Download the app and then read and listen to the Bible offline, no need of an Internet connection
5) PERSONALIZE YOUR BIBLE
We have a variety of customizable options:
• A completely new, user-friendly and catchy user interface
• Beautiful feminine design
• Highlight and bookmark your favorite verses
• Save your favorite passages in a list
• Add your own notes
• Increase or decrease the size of the text font
• Night mode function available: reduce the brightness to minimize the amount of blue light.
• Search by keywords
• You can access all of these features free and without an Internet connection!
The Women's Bible contains 66 books: 39 books in the Old Testament and 27 books in the New Testament:
Old Testament:
– The Pentateuch: Genesis, Exodus, Leviticus, Numbers, Deuteronomy.
– Historical Books: Joshua, Judges, Ruth, First Samuel, Second Samuel, First Kings, Second Kings, First Chronicles, Second Chronicles, Ezra, Nehemiah, Esther.
– Books of Wisdom (or Poetry): Job, Psalms, Proverbs, Ecclesiastes, Song of Solomon.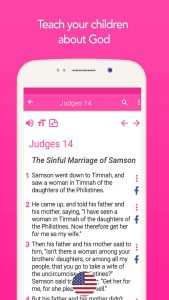 – Books of the Prophets:
Major Prophets: Isaiah, Jeremiah, Lamentations, Ezekiel, Daniel.
Minor Prophets: Hosea, Joel, Amos, Obadiah, Jonah, Micah, Nahum, Habakkuk, Zephaniah, Haggai, Zechariah, Malachi.
New Testament:
– The Gospels: Matthew, Mark, Luke, John.
– History: Acts
– Pauline Epistles: Romans, 1 Corinthians, 2 Corinthians, Galatians, Ephesians, Philippians, Colossians, 1 Thessalonians, 2 Thessalonians, 1 Timothy, 2 Timothy, Titus, Philemon.
– General Epistles: Hebrews, James, 1 Peter, 2 Peter, 1 John, 2 John, 3 John, Jude.
– Apocalyptic writings: Revelation.