This Study app gives you numerous resources to help you read and understand the Bible. Featuring the King James Version (KJV), you have access to Matthew Henry's commentaries of the Bible. Mathew Henry was an author, writer, and Minister born in Wales, United Kingdom.
He wrote the Exposition of the Old and the New Testament, a complete verse-by-verse study of the Bible, covering the entire Old Testament and portions of the New Testament (Gospels and Acts)
Originally written in 1706, Matthew Henry's commentaries are a benediction to all the Christians Bible readers.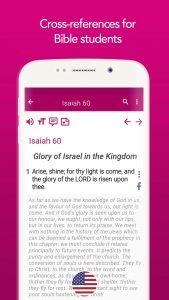 With Matthew Henry Commentary Bible, you can:
1) READ THE BIBLE FOR FREE
Download this app for free to have access to the most renowned English Bible. King James Version, enriched with comments and notes by Matthew Henry that explain the meaning of the verses.
2) READ THE BIBLE OFFLINE
This app works offline, you do not need an internet connection to use the app.
3) COMMENTARIES and SUB-HEADINGS
The Bible includes many commentaries, perfect to explain a verse or passage in a way that you can understand.
Enjoy also subheadings that briefly describe what is in the section. They are not a part of the Biblical text but they help to organize and divide the Bible.
4) CROSS-REFERENCES
Cross-references identify commonalities between different parts of the Bible, chains of similar themes, words, events, or people. A valuable tool for Bible study.
5) AUDIO BIBLE
Free audio Bible to listen online and offline!
6) PERSONALIZE YOUR BIBLE
• Highlighting
• Bookmark your favorite verses
• Ability to change the size of the text
• Copy and paste easily to Facebook, Twitter or Instagram
• Type your personal notes and insights
• Set up night mode to protect your eyes when reading at night
• Receive inspirational verses on your phone
• The app remembers the last verse read
Study the Bible for yourself!
Download the complete Bible with the Old and the New Testament:
Chose a chapter, book or verse:
Old Testament:
• Pentateuch (5: Genesis, Exodus, Leviticus, Numbers, Deuteronomy) and Historical books (12: Joshua, Judges, Ruth, 1 Samuel, 2 Samuel, 1 Kings, 2 Kings, 1 Chronicles, 2 Chronicles, Ezra, Nehemiah, Esther)
• Poetic books (5: Job, Psalms, Proverbs, Ecclesiastes, Song of Solomon)
• Prophetic Books (17: Isaiah, Jeremiah, Lamentations, Ezekiel, Daniel, Hosea, Joel, Amos, Obadiah, Jonah, Micah, Nahum, Habakkuk, Zephaniah, Haggai, Zechariah, and Malachi)
New Testament:
• Gospels (4: Matthew, Mark, Luke, John) and Acts of the Apostles (1)
• Letters from St. Paul (14: Romans, 1 Corinthians, 2 Corinthians, Galatians, Ephesians, Philippians, Colossians, 1 Thessalonians, 2 Thessalonians, 1 Timothy, 2 Timothy, Titus, Philemon, Hebrews) General Letters (7: James, 1 Peter, 2 Peter, 1 John, 2 John, 3 John, Jude.)
• Prophetic: Revelation (1)