We are glad to offer a Bible created for American Jews that could not read the Bible in Hebrew. Download freely on your phone or tablet this English version of the Tanakh: the JPS 1917, the renowned English translation of the Tanakh.
The term "Tanach" is derived as an acronym of the first Hebrew letter of each of the three great divisions of the Jewish text: Torah, Nevi'im, and Ketuvim (Books of the Law, the Prophets, and the Writings)
Enjoy the Hebrew Bible with unique functionalities:
1) COMPLETELY FREE
Download your English translation of the entire Tanakh for free. Compatible with Android devices.
2) OFFLINE
You can absolutely use it without WI-FI service.
3) AUDIO BIBLE
Read or listen to the Holy Word every day on your smartphone!
4) PERSONALIZE YOUR TANAKH
– Copy, send and share verses
– Bookmark your favorite verses
– Create and organize a favorites list
– Add your own notes
– Ability to increase/decrease the font
– Switch into night mode to a high-quality reading
– Go back to the last verse read
– Keyword research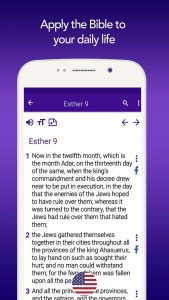 List of books of the Tanakh:
1- Torah or books of the Law includes the five books of the Torah, which, according to traditions, were revealed directly by God to Moses on Mount Sinai: Genesis, Exodus, Leviticus, Numbers, and Deuteronomy.
2- Nevi'im (the book of the Prophets) that includes Isaiah, Jeremias, Ezekiel, the twelve Minor Prophets, Josue, Judges, 1 and 2 Samuel, 1 and 2 Kings.
3-Ketuvim (The writings) that includes the great book of poems, the Psalms, and Proverbs, Joseph, Esther; Songs of Solomon, Ruth, Lamentations, Ecclesiastes, Daniel, Ezra, Nehemiah, 1 and 2 Chronicles.