Download your free Bible BBE (Bible in Basic English) and carry your personal Bible with you anytime and anywhere you are. Read or listen to the Scriptures every day and share God's word to spread wisdom and love to your close ones.
Perhaps you think that Bible study is hard. You probably don't know what to do, where to start nor where to look for help. With this Bible app, you will see that God's Word is easy to understand.
Read or listen to the Bible every day, memorize verses, reflect on what you read and try to apply what you learn to your life.
Download it for free on your Android phone or tablet and take the Holy Bible everywhere.
Bible understanding made easy offers excellent features that will make your daily Bible Reading an amazing experience:
1) Free Bible
Download and use it for free. Our mission is to spread the Word of God free of charge to more and more Christians.
2) Bible AUDIO
Listen to the Bible with high-quality audio. You can hear a particular verse or the whole chapter as well as adjust the volume, speed, and tones of the audio.
3) Biblical translation:
We offer the Bible in Basic English (BBE), translated by the biblical scholar, professor, and president of the Society for Old Testament Study, Samuel Henry Hooke. In his translation he used 1000 basic English words, making a version of the Bible accessible to people with limited education or where English is a second language.
Enjoy this useful, accurate and accessible English Bible for all.
4) No need of Internet connection
Download the app and then read and listen to the Bible offline, you do not need any WiFi connection to access any of the tools of the application. If your phone works, the application will also work.
5) Personalize your Bible
We have a variety of customizable options:
• Highlight and bookmark your favorite verses
• Save your favorite passages in a list
• Add notes
• Increase or decrease the size of the text font
• Apply Night mode when reading at night or under low light conditions
• Search by keywords
• Do you read at night? Change the display for night mode and protect your view of the blue light
Best part? You can access all of these features free and without an Internet connection!
Download it now and listen to the Bible: a new way of experiencing the word!
The Bible is divided into two main parts: the Old and the New Testament.
In total, the Bible consists of 66 books, of which 39 correspond to the Old Testament and 27 correspond to the New Testament.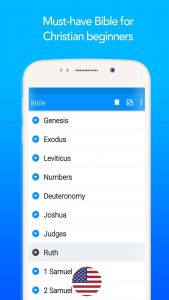 Old Testament:
• Pentateuch (5: Genesis, Exodus, Leviticus, Numbers, and Deuteronomy) and Historical books (12: Joshua, Judges, Ruth, 1 Samuel, 2 Samuel, 1 Kings, 2 Kings, 1 Chronicles, 2 Chronicles, Ezra, Nehemiah, Esther)
• Poetic books (5: Job, Psalms, Proverbs, Ecclesiastes, Song of Solomon)
• Prophetic Books (17: Isaiah, Jeremiah, Lamentations, Ezekiel, Daniel, Hosea, Joel, Amos, Obadiah, Jonah, Micah, Nahum, Habakkuk, Zephaniah, Haggai, Zechariah, and Malachi)
New Testament:
• Gospels (4: Matthew, Mark, Luke, and John) and Acts of the Apostles (1)
• Letters from St. Paul (14: Romans, 1 Corinthians, 2 Corinthians, Galatians, Ephesians, Philippians, Colossians, 1 Thessalonians, 2 Thessalonians, 1 Timothy, 2 Timothy, Titus, Philemon, Hebrews) General Letters (7: James, 1 Peter, 2 Peter, 1 John, 2 John, 3 John, Jude.)
• Prophetic: Revelation (1)